Cameron Piron and Leila Kheradpir among speakers at "Surgical Robots: Innovation, Opportunities, Challenges"
On Wednesday, October 17, Toronto's GYBO Robotics Network hosted "Surgical Robots: Innovation, Opportunities, Challenges" at the Autodesk space within the MaRS Discovery District. The event, sponsored by Synaptive Medical, Autodesk Toronto, IEEE Women in Engineering Toronto, and IEEE Engineering in Medicine and Biology Toronto, provided over 160 people from Toronto's tech community dove into the surgical innovation revolution happening in Ontario, including in robotics, automation and AI.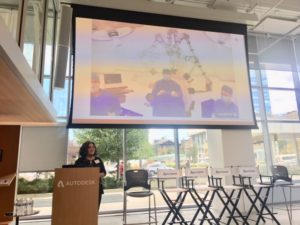 The program featured Synaptive Leila Kheradpir, Director of Hardware, as a speaker. "Synaptive started in 2012 at MaRS with a team of visionary founders and has become not only a Medtech company but also a robotics company that remedies problems for surgeons and helps extend the life of patients," she said. "Our products evolved from software to hardware and now bridge technology and innovation originally designed for use in space. We're taking that expertise into the operating rooms of surgeons, physicians, and clinicians nationally and internationally."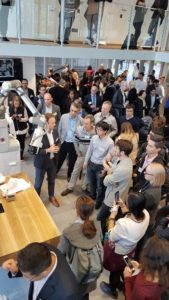 Her presentation also talked about the connection between Synaptive's innovation and responding to the needs of the company's clients and patients. "What we do goes beyond delivering robots to hospitals. The key to our innovation is what happens behind the scenes," said Kheradpir. "Our approach to problem solving in the OR allowed our robots to complete 100 surgical cases in only two weeks. We continue to be a leading player in the MedTech industry in robotics and a driver of Ontario's health ecosystem."
Cameron Piron, President and Founder of Synaptive, participated with Kheradpir in a panel on the value of health technology. "Robotics is the first tangible wave of automation in surgery," says Piron. "We believe the second wave will include a more comprehensive approach that includes enhanced imaging, real-time data driven decision support, and the unification of devices across traditional disciplines."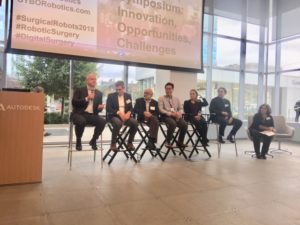 Other panelists included speakers from MDA, MDA robotics, Princess Margaret Cancer Centre, SickKids Hospital, and Western University, along with William Charnetski, Ontario's former Chief Health Innovation Strategist. "Health is an economic driver — we must use the province's investment in health to drive the growth of Ontario businesses and increase economic competitiveness," he tweeted in a post about the event.
As part of the event, Synaptive also had the opportunity to demonstrate its connected medical device and technology products, including Modus V™, BrightMatter™ Plan, and BrightMatter™ Guide. This surgical family unites surgical planning and navigation, robotic automation, digital microscopy and informatics through a uniquely interconnected, fully integrated platform that helps physicians access the right information about their patients when and where they need it most. It reflects the company's efforts to design, create, test, and deploy these devices where their automation and imaging can help surgeons to see the brain and body as they never have before.
Special thanks to Adriana Ieraci from GYBO Robotics and Adam Piercey from Synaptive's Modus V™ System Test team who co-chaired for this exciting event, and to all the team members who volunteered their time to make the GYBO Robotics Symposium a resounding success.
By Grace Guo, Communications Design Co-op