Synaptive's surgical robotic arm moves from the operating room to outer space in Hollywood drama series "The First," starring Sean Penn and Natascha McElhone
Toronto (September 13, 2018) – A surgical robotic arm from Synaptive Medical, a Toronto-based medical device and technology company, helps actor Sean Penn on a mission to Mars in the new sci-fi series, "The First."
Originally developed from Canadarm2 technology used on the International Space Station, Synaptive's first-generation BrightMatter™ Drive robotic arm with digital microscope is featured in the near-future space drama about a group of astronauts attempting to reach the red planet.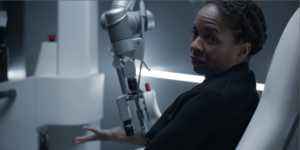 Under the direction of a visionary aerospace magnate played by Natascha McElhone, the team contends with peril and personal sacrifice as they undertake the greatest pioneering feat in human history.
"Synaptive is thrilled to see our technology make the trip from neurosurgical operating rooms to outer space in a Hollywood drama," said Cameron Piron, President and Co-Founder of Synaptive Medical. "The connection isn't entirely science-fiction, as Drive and its successor, Modus V™, were created through our long-running collaboration with Canadarm creator MDA."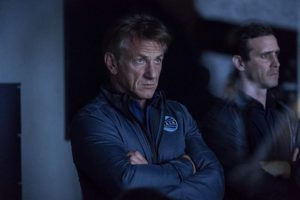 Modus V and Drive both utilize the underlying technology of Canadarm2, which MDA, a Maxar company, built in collaboration with the Canadian Space Agency. Canadarm2 is currently in use on the International Space Station.
"Space robotics remains a big inspiration for many of our teams and we incubated in the MaRS Discovery District, so while this development is exciting it's also very synergistic," said Piron.
To celebrate, Synaptive is hosting a panel discussion on designing technology for space and translating that experience into healthcare and medicine on Thursday, September 13. The panel—featuring experts from Synaptive Medical, MDA Maxar and Swift Medical and moderated by MaRS Discovery District's healthcare venture lead—will be followed by a private screening of the first episode of "The First."
"The First," produced by "House of Cards" creator Beau Willimon, premieres through Hulu's streaming service in the United States on Friday, September 14. "The First" will also air on UK television broadcaster Channel 4.
About Synaptive Medical
Synaptive Medical Inc., a Toronto-based medical device and technology company, collaborates with leading clinicians and healthcare systems to revolutionize products and services that cross traditional barriers to enable continuous improvement in care delivery in and beyond the operating room. Synaptive's integrated BrightMatter™ solutions—including surgical planning, navigation and visualization, and an informatics platform—are designed to give clinicians the right information they need to ensure the best possible outcomes for patients.