Hour Detroit Magazine has presented Henry Ford Health System with an Excellence in Care Award for treating brain tumor patient Tiffany Crowe with Modus V™ and BrightMatter™ Plan and Guide.
The video, posted to Youtube on October 30, 2018 by Hour Media, highlights how Dr. Tobias Walbert, M.D., Neuro-Oncologist at Henry Ford Health System, and Dr. Ian Lee, M.D., neurosurgeon at Henry Ford Health System, used Synaptive's technology to treat Tiffany's brain tumor. Using whole-brain tractography, Tiffany had a successful brain surgery.
Synaptive's technology allows surgeons to use technology developed for use on the International Space Station to perform minimally-invasive surgery on their patients in the OR. Modus V, used in conjunction with BrightMatter Plan and Guide, allows surgeons to see a patient's individual tracts and determine the best route to operate. This personalized approach may help to protect as much of the patient's functioning and ability as possible, contributing to a quick and safe recovery.
"Integrating tractography into our normal navigation allows us to select a safer corridor to get access to the tumor," said Dr. Ian Lee, M.D. and Neurosurgeon for Henry Ford Health System. "Seeing these networks of communication allows you to pick out the safest path to get there without disrupting those networks. The goal of surgery is to take out as much tumor as you can safely without causing damage to function. Having a roadmap for where this function lies really does allow you to be as aggressive as you can while being as safe as you can."
"We are living through one of the most exciting inflection points in the history of cancer and in particular for brain tumors and neurosurgery," said Steven Kalkanis, M.D., Chair of Henry Ford Department of Neurosurgery and Medical Director of Henry Ford Cancer Institute. "There's never been a more hopeful time."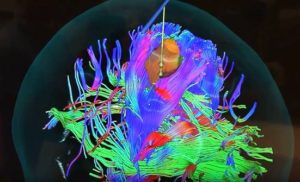 "Knowing that the motor fibers are actually all around the tumor did change my approach [to Tiffany's surgery]," said Dr. Lee. "We did find that the tumor was really tucked into the hand-motor area," Dr. Lee said. "By staying very close to the edge of the tumor, but not getting into the adjacent brain, we were able to get almost a complete resection of the tumor and that relieved the pressure on her motor strip and fibers. Subsequently, her hand function returned almost back to normal."
About Henry Ford Health System
Henry Ford Health System is a six-hospital system headquartered in Detroit, Michigan. It is one of the nation's leading comprehensive, integrated health systems, recognized for clinical excellence and innovation. Henry Ford Health System provides both health insurance and health care delivery, including acute, specialty, primary and preventive care services backed by excellence in research and education. Henry Ford Health System is led by President & CEO Wright Lassiter III.