At CNS 2018, Dr. Costas Hadjipanayis — MD, PhD, and Director of Neurosurgical Oncology for Mount Sinai Health System — spoke about the surgical management of brain tumors using Synaptive's approach. A recording of this talk is now available on Synaptive's channel on VuMedi.
Watch Dr. Hadjipanayis' presentation on VuMedi here.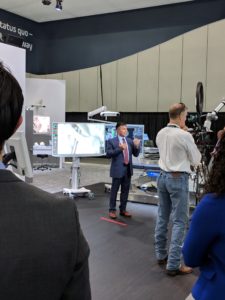 In his presentation, Dr. Hadjipanayis describes surgical management of five significant brain tumors using Synaptive's connected suite of surgical products and their heavy integration into his practice and approach to treating brain tumors.
Case 1: Parietal Brain Metastasis
Case 2: Posterior Fossa Brain Metastasis
Case 3: Low Grade Glioma
Case 4: Glioblastoma
Case 5: Bifrontal Meningioma
Dr. Hadjipanayis also highlights how Modus V™'s visualization provides clarity and magnification when resecting patient lesions. Modus V's ergonomics allows Dr. Hadjipanayis to operate more flexibly and comfortably while delegating tasks on the robotic arm.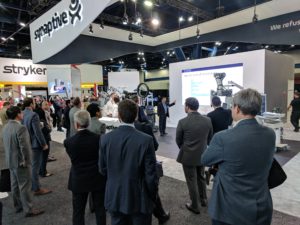 In addition to the visual clarity provided by Modus V, the Synaptive surgical suite of technologies also integrate tractography and neuronavigation for cranial cases. This connected approach allows surgeons like Dr. Hadjipanayis to recognize all the pathways in the patient's brain associated with the tumor, giving them more information with which to determine the best approach.
With Synaptive and the Modus V robotic digital microscope, "We can incorporate the tractography and neuronavigation to really understand some of the eloquent pathways associated with tumors, and guide our surgery when dealing with patients having tumors adjacent to the motor cortex, language pathways and other eloquent areas," said Dr. Hadjipanayis
This insight is particularly helpful when the tumor is located near critical areas of the brain that relate to the patient's ability to maintain function.